Kids Grow Up Happy and Healthy with New CCDBG Funds
Every child should have everything they need to grow up happy and healthy. Family child care providers play a vital role in caring for children by identifying and supporting their developmental needs at an early age. Yet Congress has deprived providers of the training they need to provide crucial screenings and early intervention for our youngest Americans.  In California, fewer than 1 in 3 babies and toddlers receive timely developmental and behavioral screenings.[1]
Lawmakers need to make funds available so that every baby and toddler has equitable opportunities from the very start.
New Child Care and Development Block Grant (CCDBG) funds, if approved in 2018, could make professional development and training courses for providers more affordable, accessible, and widely-available, giving child care professionals the tools they desperately want and need to help our babies thrive. Learn more on our CCDBG Advocacy Page.
---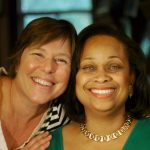 Nancy Harvey runs Lil' Nancy's Primary Schoolhouse in Oakland, where she has provided early care and education to the children in her community for over 15 years. She shared with us how increasing CCDBG funds would help providers support their youngest learners:
"Early care and education is ever-changing, so it's important that we have the most up-to-date materials. This is especially important for children with special needs. We're learning new things about autism, how to better support children with autism, and its being diagnosed earlier and earlier. The sooner it is detected, the better providers can support children and families. And that detection can only be done with good training and education.
The Quality Improvement and Rating System (QRIS) training is a very expensive training, and for that reason, most providers don't take it. Yet it is so needed, because it teaches providers how to assess young children's developmental skills. Providers want to be able to formally assess a child, write up the results, and share it with the child's family and pediatrician. This allows us to stay on top of developmental challenges and needs early on. That's key; it's what we need to help children grow and thrive. This will also give parents the comfort of knowing that their provider is equipped with the most recent knowledge of how to care for and teach their child.
Every child should have this comprehensive support system, regardless of where the child lives, or their family's socioeconomic background. This is an equity issue, because providers who care for children from low-income families are unable to afford this training. Children of color routinely get identified with autism years later than white children.[2]
If children don't receive the proper quality child care they need, they are behind by as much as 18 months by kindergarten, and this gap continues to widen through their school years. Early intervention and screenings are vital to supporting children. And the only way that this is going to happen is if Congress adds new funds the Child Care and Development Block Grant to pay for child care provider training."
---
1 in 4 children under age 6 are at moderate- or high-risk for developmental, behavioral, or social delays. California ranks 30th in the nation on the rate of infant and toddler developmental screenings. Pediatricians recommend all children be screened routinely between birth and age three. 2 in 5 parents with children under age 6 report having concerns about their child's physical, behavioral, or social development. Routine screenings of children's development help guide referrals to the services children need, resulting in cost-effective care and better outcomes for kids.