Parents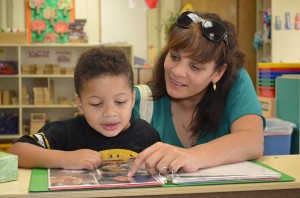 We help parents with a wide range of their child care questions. Our goal is to ensure that low-income working families can secure affordable, safe, and high quality care for their children.
We created our "Know the Law" series of publications, and more, so you can find answers to questions about your rights and responsibilities at any time. Click on the links below under each topic area to get more information specific to that topic, or check out the whole "Know the Law" series.
Resources for Families Born Outside the United States
Please see these resources from CLASP and the Women's Refugee Commission about ICE raids. Please see this resource from CLASP about the new "public charge" rule.
New Resource: Affordable Child Care Programs for Low-Income Families in California
Check out our  Quick Guide to Affordable Child Care Programs  in California. This general overview of eligibility rules and tips on applying for subsidized child care helps families get the child care they need to get ahead and stay ahead.
Questions about a child care subsidy? Received an NOA?
If you have a subsidy to help pay for child care (through a child care center, family child care home, or license-exempt provider ) and have a question about a "Notice of Action"  or hearings,  contact us. Our short video explains three things parents should know about a Notice of Action, in English and en Español.
As a parent, you have rights to notice, hearings, and appeals regarding your child care subsidy.
Looking for Information about Immunization Requirements?
The Administration for Children and Families asserts that it's critical that children in early childhood programs are vaccinated according to the Centers for Disease Control and Prevention immunization recommendations. In addition to the vaccinations that a state requires to enter child care, Head Start programs are required to help children in their care become current with their vaccinations. New guidance for child care programs explains the rules. California law has strict conditions parents must meet if they do not immunize and want their children to attend child care.
Do you want to know more about immunization requirements and child care? See Know the Law About Immunization Requirements for Children in Child Care in California.
Looking for information about child care for children with disabilities?
Federal and state laws provide protections for children with disabilities in child care programs.  You can call us with questions about what these protections mean for your family. Know the law about including children with disabilities in child care programs.
We also provide resources for child care providers – that may be of interest to parents – about how to care for children with challenging behaviors.
Looking for resources specific to foster parents?
Our Fact Sheet explains what subsidies may be available for children in the child welfare system.
You can also contact us with questions about whether the children in your care may be eligible for these programs.
Other questions?
Questions about licensed and license-exempt child care in California?
Family child care homes and child care centers are examples of licensed child care. Nannies, summer camps and family members are examples of license-exempt care.
California's Child Care Licensing Program explains the general licensing and health and safety rules for licensed child care in California.
Looking for child care or help paying for child care?
Here are a couple of links to find your local child care resource & referral agency:
Child Care Aware

.

Type your zip code into the red box "Free Child Care Search" in the lower right corner
Wondering about how Paid Family Leave works?
Paid Family Leave provides partial wages for parents to bond with a newborn, adopted or foster child, or care for a child (or other family member) who needs ongoing medical care.
Visit the Employment Development Department to find out if you are eligible. The key requirement is that you have paid into State Disability Insurance through your employer – generally, it will show up as a "CA SDI" deduction.
Check out our full "Know the Law" Series.
Resources