Our Team
Kim Kruckel, Executive Director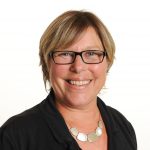 Ms. Kruckel joined the Child Care Law Center staff in 2012. She began her career as a community organizer, and founded Parent Voices at BANANAS Child Care Resource & Referral so parents with low-incomes could advocate for child care.
Ms. Kruckel has experience in employment law, housing law, and legislative and grassroots advocacy, with expertise in Paid Family Leave and family-friendly work policies. She received her law degree from University of San Francisco School of Law.
Patti Prunhuber, Senior Policy Attorney
Patti Prunhuber joined the Child Care Law Center as Senior Policy Attorney in January 2016.
From 2010 to 2015, Patti worked at the Public Interest Law Project. Some of her significant work there on behalf of children and families with low-incomes includes Parent Voices Oakland v. Calif. Dept. of Education, halting the termination of Stage 3 subsidized child care for 56,000 children; Hartley v. Calif. Dept. of Social Services, ending the  practice of collecting from children, and former children, the welfare debts incurred by their parents; multiple writs challenging counties' unlawful General Assistance policies; and Jones v. Calif. Dept. of Social Services, challenging the failure of county welfare departments to provide welfare-to-work promptly to time-limited CalWORKs recipients.
Ms. Prunhuber worked in Massachusetts legal services organizations for twenty-five years, most recently as Litigation Director at Community Legal Aid. In addition to her legal advocacy in state and federal court in the areas of public benefits, health care, fair housing and workers' rights, she has taught courses on Welfare Law and Social Policy, Family Law, and Labor and Employment Law. Ms. Prunhuber received her JD from Northeastern University School of Law.
Julia Frudden, Director of Community Advocacy
Julia Frudden joined the Child Care Law Center in 2016. She first joined us as a Project Manager, later became the Communications and Development Manager, and she now directs advocacy and engagement efforts for our community development initiatives.
As Project Manager, she focused on assisting families at risk of losing their affordable child care and advocating for fair business and zoning laws for family child care homes. As Communications and Development Manager, she led our outreach efforts to promote awareness of issues and support progressive policy change for children and families.
Previously in her career, Ms. Frudden taught first grade in under-served communities in East Palo Alto and in Five Points, Denver CO. She also has experience supporting youth in juvenile probation camps in Los Angeles. Ms. Frudden graduated from Pepperdine University with a degree in Political Science.
Maisha Cole, Staff Attorney  
Maisha Cole joined the staff of the Child Care Law Center as Staff Attorney in December 2018. Ms. Cole received her B.A. in Political Science from U.C. Berkeley and her JD from the University of California, Hastings College of Law. Immediately after law school, Ms. Cole worked at Making Waves Education Program, where she provided support to under-served children and families in San Francisco, combining her love of education and legal expertise. Ms. Cole then began her legal career working as an outreach attorney at AIDS Legal Referral Panel, providing training to clients and service providers in the areas of government benefits, housing, employment, and disability rights. Ms. Cole looks forward to continuing her advocacy and passion for representing diverse communities here at the Child Care Law Center.
Toni Robertson, Community Advocate 
Toni Robertson has spent over 30 years in the child care field and holds a degree in Child Development. From the beginning, she was an active family child care advocate. Over her career, she has worn many hats, from family child care provider, to President of the California state-wide family child care association, to trainer, mentor, and quality improvement facilitator for CocoKids (the child care resource and referral agency for Contra Costa County). As a Community Advocate at the Child Care Law Center, Ms. Robertson supports the implementation of  Senate Bill 234, the Keeping Kids Close to Home Act.
Angelo Atangan, Community Advocate 
Angelo Atangan is a recent graduate from the University of California Los Angeles with a BA in Sociology. At UCLA, he played a major role in gaining support for LAUSD's Measure EE campaign thanks to his Opinion Editorial that was circulated throughout the UCLA student body. He worked at the Alliance for Children's Rights delivering free legal services and referrals that supported children in foster care and transitional youths. He also has experience as a team leader for AmeriCorps' Jumpstart program where he served children coming from disadvantaged backgrounds. As a Community Advocate at the Child Care Law Center, Mr. Atangan supports the implementation of SB 321, which provides immediate and continuous Stage 1 child care for CalWORKs participants.
Stephen Rosenbaum, Senior Staff Attorney
Stephen Rosenbaum, a civil rights attorney and legal educator, joined the Child Care Law Center in 2019. He has a long career in social justice advocacy. Under the auspices of California Rural Legal Assistance, Disability Rights California and Disability Rights Education & Defense Fund, Mr. Rosenbaum represented children, youth and parents in disputes with social service agencies, school administrators and housing providers, and has also advocated on behalf of students with disabilities, low-wage domestic workers, farmworkers and undocumented immigrants—in court, legislative bodies and community education and outreach venues.
Mr. Rosenbaum holds the title of Frank C. Newman Lecturer at UC, Berkeley and has taught law school courses in professional skills, disability rights, civil rights litigation and mental health advocacy in the law schools at Stanford University, University of San Francisco and Golden Gate University.  He has been involved in rule of law activities and legal education reform in the Middle East, Europe, Central, and Southeast Asia and West Africa. He is a Visiting Researcher Scholar at Berkeley's Haas Institute for a Fair & Inclusive Society and has written extensively on special education, disability, lay advocacy, and international human rights. Mr. Rosenbaum earned his JD and Masters in Public Policy at UC, Berkeley.
Suzanne Lander, Operations Associate